RevCon 2015 and OpenInsight 10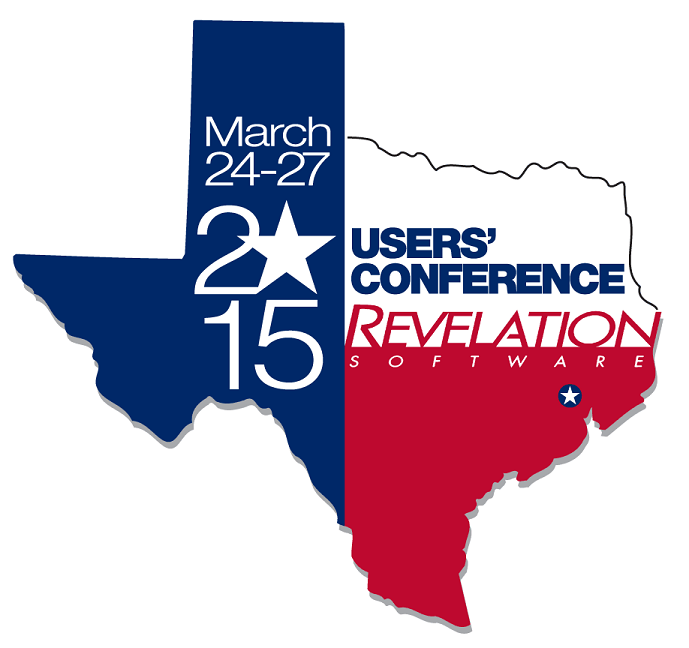 It is the week after the major company event of 2015 wherein Revelation Software at long last revealed to the public their upcoming crown jewel: OpenInsight 10. Certainly there have been glimpses of the product by those who diligently followed the Building OpenInsight 10 Blog. Yet, nothing compares to the experiencing of having the product make a live appearance, in full display, on the big screen, and in all of its shiny glory.
The conference itself was its traditionally enjoyable event wherein developers, consultants, and technically minded business users came from around the globe to meet, network, and patiently wait for the various aspects of the conference to unfold. I had previously written about our own expectations for this conference with not a little arm twisting encouragement that everyone should make plans to attend. Sadly, not everyone I had in mind (you know who you are…) made it, but there was a notable increase in attendance with many faces that have never been witnessed at previous conferences. It was an encouraging experience which also afforded us opportunities to make new friends and business connections.
But what about OpenInsight 10? Did it live up to the hype? What do our clients, customers, and business associates need to know to prepare for it? Should software upgrades and major projects be put on hold until OpenInsight 10 is released? These are all the types of questions that we intend to address in subsequent articles to come.
Given that this conference was dedicated to showcasing and explaining the technical aspects of the core and ancillary components of OpenInsight 10, there was much more raw information dispensed as opposed to the previous conferences wherein community leaders are invited to present upon a variety of how to, best practices, and ideological topics. Therefore, our mission will be to distill the essential take away content and provide it to our readership in a practical, "need to know", format.
Therefore, in the coming days (and hopefully before the memory of RevCon 2015 fades from our memories), we will be posting several articles which will explore the various features and tools that were presented upon at last week's conference. While this article itself will not delve into any particular aspect of the product itself, I will give you some immediately useful information: projected timelines.
From day one of the conference people wanted to know when OpenInsight 10 will be released. As posted in one or two places on the Revelation discussion forum, the original plan was to release the beta at the time of the conference. As opportunistic as this would have been, it is now obvious that this could not be possible. The product has come a long way but there is much more to be done. Knowing the question on everyone's mind Mike disclosed that the target release for the beta will be "Q3" (as in 3rd Quarter). He left it at that. The inside joke is that not even a year was given…
Safely assuming this is Q3 2015, this gives Revelation a 3-6 month gap from today. My personal opinion is that we will see the beta available near the end of September 2015, if not later. That is not meant to be pessimistic or a criticism, but merely an observation of the sheer amount of work that has gone into the product and is yet to be done. In all sincerity, everyone in the community will want to be as patient as possible so OpenInsight 10 can be done right.
From the projected beta release date we might extrapolate on a full release date for the product. While Revelation did not discuss this target in specifics, they did announce that the next conference (location still to be determined) will be closer to 12-14 months from now rather than their customary 18 month cycle. It was made very clear that OpenInsight 10 will be officially released by the next conference.
So, the easy inference is that OpenInsight 10 will be ready for prime time a year from now. While I am not privy to the inner workings of Revelation Software, this seems rather ambitious to me, simply given the sheer scope of work that is still required. A Q3 beta release of the product is at best 3 months from now and at worst 6 months. That too seems like a tall order. If past major releases are any indicator, beta testers will need at least 6 months to provide proper feedback. Clearly the linchpin will be the work that is accomplished in the next few months. This will set the pace for the testing and full release schedule to come.
Regardless of how well Revelation Software succeeds in their current timeline, it is very safe to assume that OpenInsight 10.0 (that is, Ten-Dot-Oh), will not be around until early Q2 2016. If you are the cautious type who is x.0 averse, then you will need to plan even longer. Practically this means do not put your projects on hold. One year is a long time to sit on your next release, new features, and future tools. OpenInsight 10 will come when it is ready but we should not be holding our breath. Make progress with the tools you already have.
Before ending this preliminary missive, we want to extend our gratitude and well wishes to the entire Revelation Staff who worked hard to bring the conference together and continues to labor over the next major release of OpenInsight. We also want to thank Mike Ruane, President of Revelation Software, who has given us permission to post pictures and discuss openly the product.
Stay tuned for our first technical review of OpenInsight 10…
P.S. If you want a bit of an advanced preview of the new UI and further examples of what the new Presentation Server can do, check out today's blog by our friends at Sprezz.
One Response to RevCon 2015 and OpenInsight 10